Variable transparency glass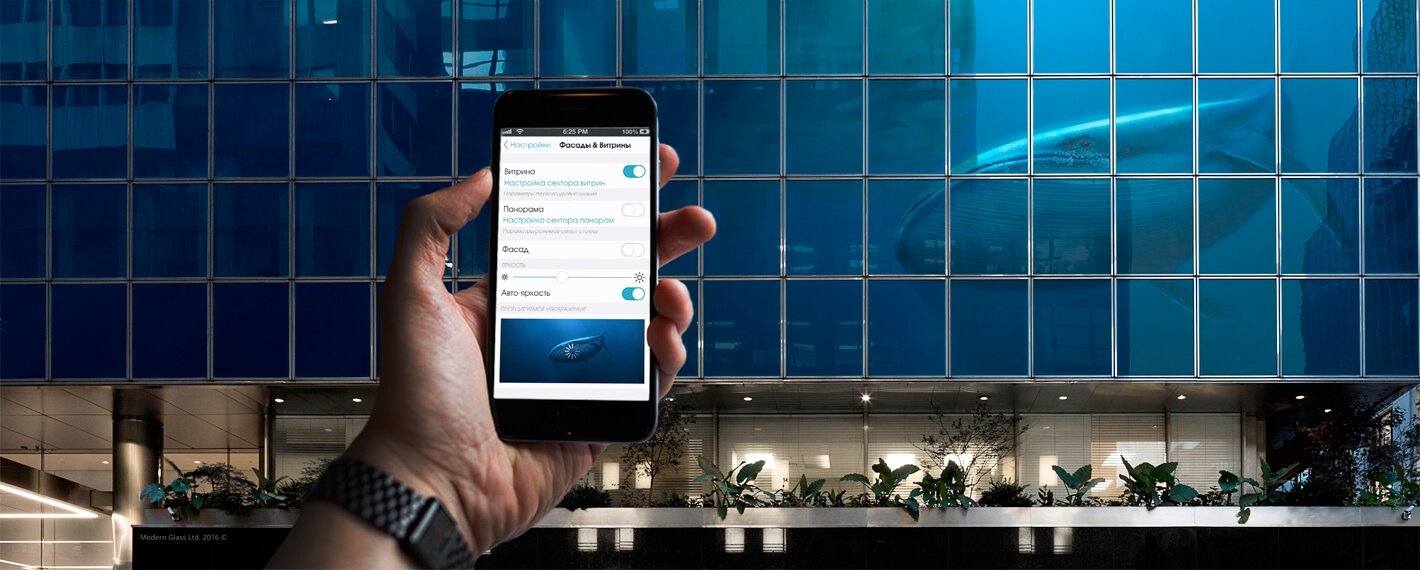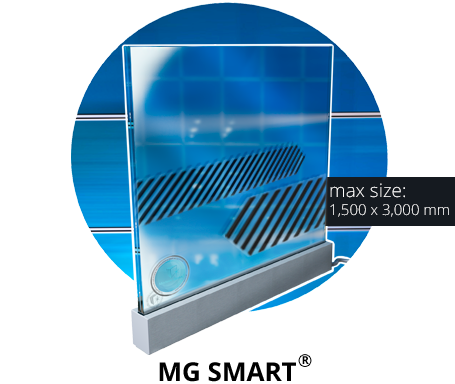 Variable transparency glass (smart glass) is multi-layer laminated glass capable of changing its optical properties from opaque to transparent state under the influence of electric current. With power supply off the glass is opaque, and with power on it becomes transparent.
Modern Glass produces variable transparency glass under MG Smart brand.
MG Smart applications

Projection and advertizing screens
Confidential rooms
Exhibition booths
Shop windows
Office and room partitions
Facade glazing (sun protection)
Shower cabins
Doors

Fast switching between opaque and transparent state

Voltage supply only for transparency degree change

Fire-resistant and anti-radiation versions available

Alternative to blinds, curtains, and mechanical shading screens

Glass transparency degree control

Low electric power consumption

Good energy saving properties

UV radiation protection
Modern Glass production capabilities

Max size:
1,500x3,000 mm

Thickness:
up to 100 mm
Max weight:
1,000 kg
For MG Smart production we use liquid-crystal variable transparency film (PDLC technology). The liquid crystal layer is located between two special-purpose films.
MG Smart technical characteristics

Energy consumption: 7 W / sq m
Supply voltage: 110 volts AC (provided by a special transformer)
Transition from opaque to transparent state takes less than 1 sec
Operating temperature range: from –25 °C to +60 °C
Light transmission: up to 80% both in transparent and opaque state
Transparency: more than 80% in transparent state, less than 8% in opaque
Operating modes of MG Smart control system

Stationary switch
Remote control
Smart Home compatibility
PDLC technology

The film structure consists of two transparent polymeric films with a liquid crystal layer in between.

Opaque
The film at rest has an opaque milky-white color. Liquid crystals are located chaotically, scattering the light passing through.

Transparent
When 110 V, 50 Hz voltage is applied to the film, liquid crystals along the electric field lines recombine, the film begins to permit all light through and becomes transparent.

MATERIALS FOR MG SMART PRODUCTION

Glass
• colorless
• tinted
• sun control
• low emissivity
• tempered glass
• multifunctional
• fireproof
• painted
Film
• white
• white with a shade of gray
• white with a shade of blue
Producer: DMDisplay (Korea)
Please note: variable transparency glass production is temporarily suspended, until about 2021.